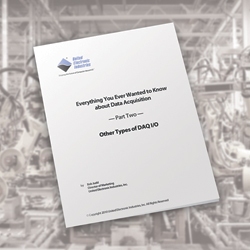 Walpole, MA (March 1, 2012) — United Electronic Industries (UEI) has released Part Two in their three-part series of white papers called, "Everything You Ever Wanted to Know about Data Acquisition." While the primary focus of the first white paper in the series was analog inputs, this new paper introduces and explains some of the less common or "second tier" I/O DAQ hardware, including: Motion I/O, Synchros and Resolvers, LVDT/RVDT, String Pots, Quadrature Encoders and Piezoelectric Crystal Sensors, as well as Communications I/O standards such as ARINC 429, MIL-STD-1553, CAN, common RS standards as well as clock, sync and timing standards.
"Everything You Ever Wanted to Know about Data Acquisition" Part Two, is available as a free download.
About UEI
Founded in 1990, UEI is a leader in the PC/Ethernet data acquisition and control, Data Logger/Recorder and Programmable Automation Controller (PAC) markets. UEI's I/O "Cube" and RACKtangle are compact, rugged platforms, ideal for DAQ, Logging and control applications in a wide range of applications and industries such as automotive, aerospace/aviation, unmanned vehicles, appliance test, simulator control, in-vehicle test, wind and solar power system control, semiconductor manufacturing, medical equipment and more. UEI offers both COTS and custom products to OEMs, end-users, and systems integrators worldwide. With analog, digital, counter, CAN-bus, Serial I/O, ARINC-429, 1553 I/O and more, UEI will have the interface you need. UEI supports all popular Windows, Vista, Linux and Real-time operating systems, programming languages, and application packages such as LabVIEW, MATLAB, and DASYLab.
* * * *