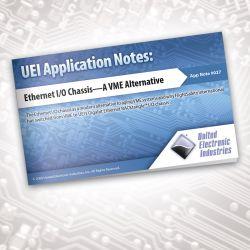 United Electronic Industries (UEI) has released white paper called, "Ethernet I/O Chassis—A VME Alternative," that outlines the Ethernet I/O chassis as a modern alternative to aging VME systems and goes into some detail as to why Flight Simulator manufacturer FlightSafety International has switched from using VME systems to using UEI's Gigabit Ethernet RACKtangle™ I/O chassis.
"Ethernet I/O Chassis—A VME Alternative," is available as a free download. Please click the link above or see our application stories section.
About UEI
Founded in 1990, UEI is a leader in the computer based data acquisition and control industry. Serving customers world-wide, UEI products based upon PCI, PXI, ISA and Ethernet interfaces offer unequaled performance as well as flexibility. We are committed to providing the highest quality hardware, software and services, enabling engineers and scientists to interface data-acquisition and control hardware to the real world. Through our state-of-the-art technologies, we serve the needs of individual researchers and developers as well as OEMs. For more information, please visit our web site at: www.ueidaq.com.
* * * *