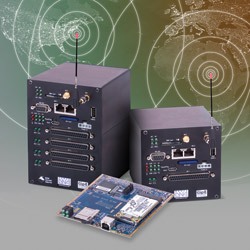 United Electronic Industries (UEI) announces the release of the DNA-CAR-550 PCIe Mini Card interface board for their popular UEIPAC programmable automation controllers. The DNA-CAR-550 provides a new level of system interconnectivity to the UEIPAC, allowing simple and direct connection to a wide assortment of Cell/CDMA/GSM networks, and Wi-Fi networks. The board also allows direct connection to the satellite based GPS system.
The DNA-CAR-550 card includes a replacement front-panel to allow for added features and functionality such as: 4-LED annunciator panel, SIM/UIM card slot, and two external SMA RF connectors (also included) for various application-specific antenna requirements.
Because the UEIPAC is based on a standard Linux operating system, software support, and high-quality drivers will be supplied by most USB-Based, Mini Card suppliers; thus opening the UEIPAC up to a host of new applications when combined with the new DNA-CAR-550 board.
Pricing
DNA-CAR-550-300
Delivery from Stock
DNA-CAR-550-600
Delivery from Stock
About UEI

Founded in 1990, UEI is a leader in the computer based data acquisition and control industry. Serving customers world-wide, UEI products based upon PCI, PXI, ISA and Ethernet interfaces offer unequaled performance as well as flexibility. We are committed to providing the highest quality hardware, software and services, enabling engineers and scientists to interface data-acquisition and control hardware to the real world. Through our state-of-the-art technologies we serve the needs of individual researchers and developers as well as OEMs.
* * * *