Where can I find 3D CAD drawings for UEI's product?

Yes. UEI provides step files that you can download from our FTP site.

Where can I find the shipping weight for my system?
We have a list of product weights here on our website.

My system was delivered today. How do I get started?

Along with the hardware, you also received a Getting Started guide in your package. Please follow those instructions to install your development software (if applicable) and to connect your hardware. You can also find a series of Getting Started videos on our website (click here for videos, and select the Getting Started option in the Categories pull-down menu).
What are the RDY and STS lights for?
The RDY light indicates that the I/O board is powered up and ready for configuration and/or operation. For boards that need external power, RDY does not light until power is supplied.
For I/O boards that support mapped (RtDMAP, RtVMAP) or buffered (ACB) data acquisition modes, the STS light indicates that the board is in Operation mode (acquiring data or ready to acquire data).
How do I install new I/O boards? Can I rearrange I/O boards in my system?
You can install or rearrange I/O boards at your site:

For a Cube chassis, you configure jumpers on your I/O board before installation to indicate the physical order of the board in the chassis: Please refer to our PowerDNA Field Installation Guide for complete instructions.
For a RACKtangle, there are no jumper settings or other changes required to install the board into the RACK, just be certain the chassis is powered down before removing or installing boards.
Note that you must not perform maintenance while the chassis power is on. Hot-swapping will damage the board and possibly other boards in the system.
How do I find the IP address of my system if I don't know it?

The default IP address is 192.168.100.2 on NIC 1. If your system is no longer using the default and you don't know the IP address, you can connect a host PC to your UEI system via the serial port (57600/8/1/no parity), and enter the following to see the network configuration:
On hosted PowerDNA systems, enter "show" at the "DQ>" prompt.
On standalone UEIPAC systems, enter "ifconfig" at the "#" Linux prompt.
Alternatively, if you know the range of IP addresses your system could be, you can try PowerDNA Explorer. Set the network address range (Network > Address Ranges), and PowerDNA Explorer will attempt to connect to every IP in that range.
How do I check what version of software/firmware I am using?

For hosted PowerDNA systems, you can use PowerDNA Explorer to check versions:
Check the version of the software suite installed on your host system by clicking Help > About PowerDNA Explorer.
Check the firmware version by clicking View > Show Hardware Report and scrolling down to the "FW Ver" listing under the CPU description.
For standalone UEIPAC systems, the SDK is installed in version-specific directories on your host, (e.g. /home/<usrname>/uei/ueipac-4.0.x). To check the version of the UEIPAC distribution on the UEIPAC itself, enter "devtbl" at the "#" Linux prompt.

I installed UEI's latest PowerDNA software recently. I'm seeing strange results.
You may have a mismatch of firmware and library software between your hardware and host PC. If you install a new revision of our software on your host PC, you must also install the latest firmware that is included with the download onto your system CPU board. You can do this through PowerDNA Explorer (Network >Update Firmware).
I'm getting strange readings when nothing is connected. What's going on?

Floating input channels will read undefined values. To test inputs, use a known voltage and connect to input. Ensure a proper ground connection, as well.
Unused input channels before and after my driven channel are reporting some voltage. Is this expected?
Yes. You are most likely observing crosstalk. Multiplexed input boards, such as UEI's AI-207, use a single ADC with each channel first going through a multiplexer. When the multiplexer switches to the next channel, there is some settling time before the reading stabilizes to the new value. If a channel has a high impedance (i.e. open circuit), then there's no path for the stray capacitance of the input to dissipate power.
This is normal, expected behavior. It is not a problem by definition; the channels impacted are not connected to a signal to be measured. However, if you wish to eliminate this behavior, try the following:
Ground unused channels
Use multiplexed inputs at lower sampling rates, and if possible, use sensors with low output impedance
If all else fails, UEI also offers simultaneously sampled input boards -- these remove nearly all crosstalk
Can I use the same boards in a military chassis? Is there any difference?

MIL chassis accept the same I/O boards as non-MIL chassis. Depending on your chassis type, you'll select DNA or DNR boards, which are electronically identical but differ in how they connect in the chassis. You use DNA boards in the DNA-MIL (or Cube-based PowerDNA / UEIPAC MIL systems) and DNR boards in the DNR-MIL (or RACK-based PowerDNA / UEIPAC MIL systems).

Will this new software release work on my older chassis?
Every time UEI releases a new software version, our highest priority is to maintain backward compatibility. If you have concerns, please contact UEI support at support@ueidaq.com.
I received a CD with the software, but I don't have a CD drive. Where can I get the software?
Please contact support@ueidaq.com for download links.
Can I run your UEIDAQ Framework libraries on my Linux Machine?
No, but programming in C/C++ with the PowerDNA API is portable to Linux as well as to the UEIPAC.
UEIDAQ Framework is Windows only.
Which acquisition mode should I be using for my application?
Our White Paper about UEI's acquisition modes can help to identify which mode is the most appropriate for your application. If you're unsure which mode to use please contact support@ueidaq.com and we'd be happy help!
What are the compatible power connectors for UEI RACKS and Cubes?
We recommend using the Molex 39-01-4040, which can be found here: http://www.digikey.com/product-detail/en/0039014040/WM18435-ND/300068
You'll also need the female pins (4 per) for the connector (Part# 44476-3112): http://www.digikey.com/product-search/en?vendor=0&keywords=44476-3112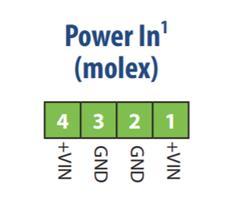 What UDP Ports are used in PowerDNA Mode?
We use 6334 or 6344 for the destination port. However, the source ports are pseudo-randomly generated by the OS on the PC. (UDP packets are sent from source ports and the IOM sends reply packets to the host PC source port.)
What are UEI's International Shipping and Export Numbers?
ECCN: 3A992.a
NAICS: 334515
Harmonized Tariff (a.k.a. HTSUS): 8471804000