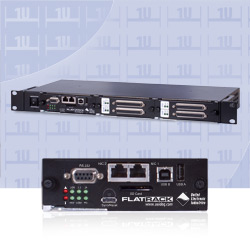 Walpole, MA (June 17, 2013) — United Electronic Industries (UEI) today announced the release of an innovative Ethernet-based data acquisition (DAQ) and control platform. The DNF-4-1G FLATRACK is a highly integrated, low-profile DAQ I/O engine made to accommodate a growing need for greater system programmability, functional versatility and scalable deployments. Developed in response to new market demands for a rack-mountable 1U chassis with high-density I/O capabilities, its low-profile (6" x 1.75" x 17.5") footprint and user-friendly programmability set it apart from other rack-mounted systems.
According to Bob Judd, Universal Electronic Industries' director of marketing, "The beauty of the FLATRACK is its deployment flexibility. As a 1U Power DNA (Distributed Networked Automation) system, Programmable Automation/Embedded Controller, MODBUS TCP interface or Simulink I/O platform, the FLATRACK's versatility is unprecedented. For rapid prototyping, evaluation and hardware-in-the-loop testing, its advanced architecture and I/O flexibility make it suitable for a variety of next-generation DAQ applications."
The DNF-4-1G FLATRACK provides two Gigabit Ethernet (100/10 Base-T compatible) interfaces and four front-loading I/O slots. Over 50 compatible I/O boards can be installed and easily interchanged for blended I/O architectures. The FLATRACK can accommodate up to 100 analog inputs, 128 analog outputs, 192 digital I/O bits, 48 ARINC-429 channels, a four MIL-STD-1553 serial bus, and 32 RS-232/422/485 ports. Users can easily design, configure, test and blend I/O channels to suit any sensor or interface requirement.
The DNF-4-1G FLATRACK features a simple, universal API-friendly layer and full compatibility with common programming languages, including VB, VB .NET, C, C#, C++, J#. The system is compatible with popular OS distributions, including Windows, Linux, RTX, InTime, VxWorks and QNX, as well as engineering packages such as MATLAB, LabVIEW, DASYLab, OPC, and ActiveX. The FLATRACK is the host to dual-channel NICs, a PowerPC CPU, two USB 2.0 controller/slave ports, timing/trigger interface circuitry, configuration ports, power supply and operational software – all in a standard 1U rack-mountable chassis.
Backed by a 10-year availability guarantee, the FLATRACK delivers 130,000 hour MTBF, vibration tested to 3 g, and shock tested to 50 g – optimized for rugged industrial and military environments and temperatures ranging from -40°C to +70°C. Consuming less than 8 Watts per chassis (not including I/O), AC and DC powered versions of the FLATRACK require either a universal 9 to 36 volt DC power source or 100 to 240 VAC of amplitude with operating frequencies ranging from 50 to 60 Hz. Pricing starts at $2,700 with delivery from stock commencing in July 2013.
Delivery 4-6 weeks

Pricing
DNF-4-1G-AC
$2800
DNF-4-1G-DC
$2700
About UEI
Founded in 1990, UEI is a leader in the PC/Ethernet data acquisition and control, Data Logger/Recorder and Programmable Automation Controller (PAC) markets. UEI's I/O "Cube"RACKtangle I/O chassis are compact, rugged platforms, ideal for DAQ, Logging, and control applications in a wide range of industries including automotive, aerospace/aviation, unmanned vehicles, appliance test, simulator control, in-vehicle test, wind and solar power system control, semiconductor manufacturing, medical equipment, and more. UEI offers both COTS and custom products to OEMs, end-users, and systems integrators worldwide. With analog, digital, counter, CAN-bus, Serial I/O, ARINC-429 I/O and more, UEI has the interface you need. UEI supports all popular Windows, Vista, Linux and Real-time operating systems, programming languages and application packages, including LabVIEW, MATLAB and DASYLab.
* * * *