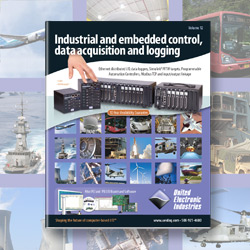 Walpole, MA (Sept. 19, 2012) — United Electronic Industries (UEI) is pleased to announce the release of Volume 12 of their popular product catalog. Larger than ever at 44 pages, the latest catalog is filled cover-to-cover with information on the company's ever-expanding product line, as well as a number of new application stories and a helpful FAQ section.
The UEI catalog describes the growing list of I/O boards that are available for use with the company's RACKtangle™ and CUBE chassis. The list includes: analog digital I/O, counter timers, ICP/IEPE interfaces, ARINC-429, ARINC 708/453, and MIL-1553 avionics, serial and CAN-bus ports, IRIG, and many others. Major announcements include their higher-performance, MIL-STD-1553 capable UEILogger, a new AFDX avionics product, and EPICS software support.
The FAQ section of the catalog covers common product design, options and implementation questions, as well as UEI's progressive polices regarding product demonstrations and NRE.
A free copy of the catalog is available in downloadable PDF format and/or a printed hard copy, and can be requested by visiting http://www.ueidaq.com/cat/. Catalogs may also be requested by phone at: (508) 921-4600 or fax at: (508) 668-2350.
Pricing
UEI Catalog Volume 12
FREE
ueidaq.com/cat/
About UEI Founded in 1990, UEI is a leader in the PC/Ethernet data acquisition and control, Data Logger/Recorder and Programmable Automation Controller (PAC) markets. UEI's I/O "Cube" and RACKtangle I/O chassis are compact, rugged platforms, ideal for DAQ, Logging, and control applications in a wide range of applications and industries including automotive, aerospace/aviation, unmanned vehicles, appliance test, simulator control, in-vehicle test, wind and solar power system control, semiconductor manufacturing, medical equipment, and more. UEI offers both COTS and custom products to OEMs, end-users, and systems integrators worldwide. With analog, digital, counter, CAN-bus, Serial I/O, ARINC-429 I/O and more, UEI will have the interface you need. UEI supports all popular Windows, Vista, Linux and Real-time operating systems, programming languages and application packages, including LabVIEW, MATLAB and DASYLab.
* * * *