---
Last Class: October 29, 2020
NEXT GENERATION HIL / SIL / HYBRID-TEST-BENCH SOLUTIONS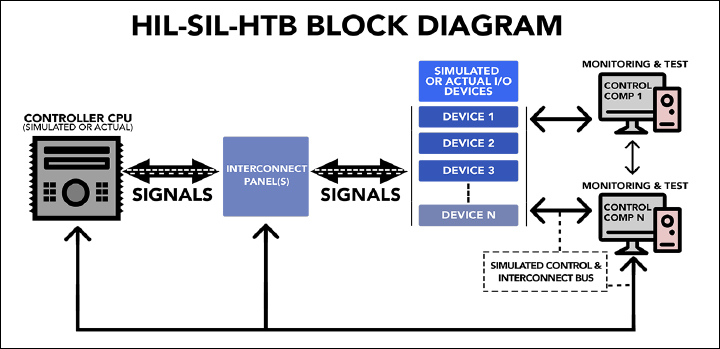 Whether you're developing a brand-new HIL/SIL system or retrofitting a legacy system, today's technology makes your life easier than ever before. The large, power-hungry (often VME based) systems of yesterday are replaced by smaller (e.g. 3U versus 7U), simpler and less expensive modern I/O systems. The expensive, special-purpose CPUs often used in earlier systems are now replaced by off-the-shelf, multicore DELL (or equivalent) PCs. Simulating the various signals necessary has historically required expensive, custom or semi-custom electronics while today these simulated signals are generated by low-cost, COTS modules. Even wiring and interconnection is simpler. The bulky (often wire-wrap) interconnection panels of the past are replaced by small, low-cost PCBs. Rather than manually switching between the actual LRU/Sensor, a simulated signal and/or an error signal, in today's system, this switching is done instantly via high density, inexpensive mux/switchboards.

In this Master Class, we will describe the latest generation of SIL/HIL/Hybrid-Test-Bench products and how they help you, the system designer (and often end-user), build a powerful, efficient and price-effective solution.

Please note that UEI Master Classes will now be switching to a once a month schedule unless otherwise stated. Master Classes are a great way to engage in helpful discussions with UEI and you will gain pertinent insights from our expert application engineers. If you were registered for the last UEI Master Class, you can use the same class link to login to this session -- no need to re-register!

---
| | |
| --- | --- |
| What is a Master Class? | Upcoming Master Class Schedule |
| The UEI Technical Master Class Series allows you to directly interact with UEI's Applications Engineers as they discuss a wide variety of different topics that will help you in your day-to-day application efforts. PLEASE NOTE: These classes will now occur once per month. | Master Classes have ended for 2020. Thank you for all our participants and we will be back in 2021! |
---

Previous Master Classes
9/24/20: APPLICATION ARCHITECTURE: KEY POINTS TO USING HANDLES, DEVICE NUMBERS, PROCESSES, THREADS AND DATA ACQUISITION MODES SUCCESSFULLY IN YOUR APPLICATION

Takeaways:

Learn when you need to use an addition handle
Learn how Device Numbers are handled differently in a Cube vs a RACKtangle
If you'd like to use Multiple Processes, Threads and/or Data Acquisition Modes, learn a few simple guidelines that will make you successful

.


UEI's Applications Engineers will present a master class on tips and tricks to ensure a strong application architecture. Engage and learn with us as we cover various details that will guide your application development.

9/10/20: KEEP YOUR VEHICLE DEPLOYMENT ON COURSE -- HOW TO DESIGN, TEST AND IMPLEMENT AN EFFICIENT CONTROL AND MONITORING SYSTEMS.

Takeaways:

Overview of Model-Based design using:

the Mathworks Simulink and Embedded Coder®
RTI's Connext® DDS
UEI Rugged Deployable Hardware

Demo of modeling and code generation for helicopter control systems
Hardware deployment options for verification and flight
Data sharing and distribution solutions

.


Co-presented with Real-Time Innovations (RTI) and the MathWorks.

Getting your vehicle off the ground can be challenging and fraught with complexity. No matter if it is a helicopter, jet, or rocket, all need control and feedback points to stay on course. Join us for a special Master Class where UEI, the Mathworks, and Real-Time Innovations (RTI) will discuss how Model-Based design is transforming the way engineers and scientists plan, build, and test their systems.

Complete control systems, individual components, and the entire manufacturing plant can be prototyped on a desktop and deployed on real hardware. You can then distribute the application on everything from the physical system (device, plane, ship, etc.) to a hardware-in-the-loop (HIL) test station. Using modeling and code generation technology from the Mathworks, real hardware deployment options from UEI, and data distribution software from RTI, you will learn how to move your system from mere sketches to land, sea, air or space deployment.

8/20/20: THE ART AND SCIENCE OF GROUNDING AND ISOLATION

Takeaways:

Learn about different types of noise in your application.
Learn about how a floating ground might affect your application.
Learn about how UEI's systems provide a great mix of safety and flexibility for your application.

.


UEI's Applications Group will present a master class on avoiding unwanted noise in your high precision application. Engage and learn with us as we cover some of the physics behind a noisy system, as well as several common types of noise you may see in your application, and how a good grounding and isolation scheme is key to precision reads. Additionally, we will cover some of the safety and anti-noise features involved in UEI's systems.

8/6/20: ANALOG OUTPUT APPLICATIONS & SOLUTION

Takeaways:

Learn about the role of operating modes in certain applications

Learn about the different generic AO variants in UEI's product line
Learn about configuring UEI's specialized wave function generator for your signaling application

.


In this UEI Master Class, our application engineers will provide insights on the analog output options in our RACKtangle, FlatRACK, and Cube chassis. We will go through three types of analog output applications - a feedback control system, a music generator, and a high precision positioning system. Learn and discuss with us as we review our precise output and timing with UEI's analog output variants and wavefunction generator. UEI is flexible in our support of many complex kinds of signal generation in industrial, research, and consumer applications.

7/23/20: ACCELERATING PRODUCT DEVELOPMENT WITH UEI AUTOMOTIVE SOLUTIONS

Takeaways:

Introduction to EtherCAT and Technology Overview using EtherCAT in Dyno testing.
Hardware-in-the-loop (HIL) solutions.
Get an understanding of in-vehicle data logging solutions.

In this Master Class, UEI application engineers will provide an overview of the different UEI solutions that can be applied to automotive industry applications. While UEI's products are well known for being used in the aerospace, defense and space industries, there is a huge range of UEI products that can be used for automotive development. Learn about and discuss with UEI the various applications that could be implemented to enhance and streamline your automotive systems.


7/9/20: HOW WILL THE NEW iDDS STANDARD IMPACT MEASUREMENT?

Takeaways:

Understanding why iDDS came about
Benefits for instrumentation vendors, DAS suppliers and end users
Applying telecom industry principles for managing an instro network
Introduction to the iDDS Working Group

Co-presented by MDS Aero Support.


iDDS is an instrumentation-centric extension of OMG's Data Distribution Service. This new Standard is being developed by a varied team (iddswg.org) interested in using a publish/subscribe communication protocol to exchange time-stamped EU measurements. Using iDDS would eliminate the need for development of instrument-specific SW drivers to exchange digital data between instruments and DAS.

6/25/20: LVDT/RVDT INPUTS: HOW TO CONFIGURE, CONNECT & ACQUIRE DATA

Takeaways:

Review LVDT/RVDT operation
Learn how to interface UEI's AI-254 LVDT card to different types of LVDTs and RVDTs
Gain exposure to the Low-Level C-API
Gain exposure to the Framework API

LVDTs and RVDTs are robust, theoretically infinitely precise positioning devices. These devices are used everywhere from the thrust levers on fighter jets to cryogenics labs. The UEI Applications Group will cover how these devices work, and how to interface with them using our DNx-AI-254 LVDT/RVDT Interface Board. We will also take this opportunity to demonstrate both the Low-Level C-API and the High-Level Framework API. Whether it is C, C++, Python, or a wide array of .NET languages, UEI is flexible on the software side, and rugged on the hardware side.


6/11/20: USING LABVIEW™ WITH UEI DATA ACQUISITION SYSTEMS

Takeaways:

Reviewing UEI example VIs
Avionics protocols through LabVIEW (MIL-STD-1553, ARINC-429)
Synchro simulation and input
High speed data acquisition and FFT analysis
And more!

LabVIEW is a graphical programming environment that supplies the user with easy to use tools called Virtual Instruments (VIs) that simplify data processing tasks such as RMS calculation, frequency analysis using FFT, or simply grabbing data and graphing it over time. In this Master Class, UEI application engineers will provide and show VIs that allow you to build your LabVIEW application and then collect and send data to our hardware. Whether you need high speed acquisition, hardware-in-the-loop simulation, avionics protocols and more, UEI has you covered. Along with the LabVIEW examples discussed, we will also show you how you can download our PowerDNA software which includes the examples.


6/4/20: OPC-UA & MODBUS: INDUSTRIAL COMMUNICATION PROTOCOLS

Takeaways:

Overview of Modbus and OPC-UA Protocols
Benefits and limitations of each
UEI Demo of Communicating over those protocols

In this Master Class, we'll take a look at one of the most popular Industrial Communication Protocols, Modbus, and also a newer protocol, OPC-UA. Modbus, being the de facto standard for industrial communication, is extremely simple and flexible, but that flexibility comes with serious limitations. OPC-UA is a newer adaptation of the older Windows version of Open Platform Communications (OPC), adds many new features including support for Linux boxes (platform agnostic).


5/28/20: UNDERSTANDING THE MIL-STD-1553 RT/SA.

Takeaways:

Responsibilities of the RT/SAs
Configuring channels
Setting and Reading RT/SA memory
Enabling and disabling RT/SAs at run time
Error Injection
And more!

Please join us in our continuing UEI Master Class series on MIL-STD-1553. In this session, we will cover the Remote Terminal/Sub Addresses element of a system. You'll learn how to set data words in the RT/SA for a RT->BC command, and how to read data words from the RT/SA after a BC->RT command. Also covered will be removing an RT/SA at run time and how to inject errors in the bus traffic and/or the status word.


5/21/20: THE 1553 BUS CONTROLLER

Takeaways:

Frame-Based Bus Controller for Cyclic/Multi-rate commands
FIFO Based Bus Writer
Event Notifications
And more!

The continuation of our MIL-STD-1553 Master Class series will cover the Bus Controller and Bus Writer. Find out how to send multi-rate commands and optionally align them to specific time boundaries or simply how to send one command at a time. Also, find out about events that notify your application about the activities of the Major/Minor Frame Scheduler. Interact with our applications engineering team as they discuss many advantages of our 1553 Bus Controller I/O capabilities.


5/14/20: ARINC 429: MESSAGE HANDLING & APPLICATION DEVELOPMENT.

Takeaways:

Methods of sending data out (single message, FIFO, scheduler)
Filtering ARINC messages based on labels
Developing ARINC applications in LabVIEW
And more!

In this Master Class we will be exploring the avionics protocol ARINC-429 and UEI's offering of ARINC-429 capable I/O boards. ARINC-429 is the avionics data bus standard used on most high-end commercial aircraft. The standard defines both the physical and electrical interfaces of a two-wire data bus as well as the data protocol to support an aircraft's avionics network. In this class you will have the opportunity to interact with UEI's application engineers as they review and demonstrate various ARINC-429 system solutions.


5/7/20: UNDERSTANDING THE MIL-STD-1553 BUS MONITOR.

Takeaways:

How to add a Bus Monitor to a channel.
How to record Bus Monitor data.
Additional ways the Bus Monitor can help debug your system.
And more!

In this continuation of our MIL-STD-1553 Master Class, we will be covering the UEI Bus Monitor. A Bus Monitor sounds simple but you will learn all the ways our Bus Monitor can help you in your applications. We will cover adding a Bus Monitor to a channel, 2 ways to use the Bus Monitor to help debug missing words and commands from the bus, Raw Mode vs Full Message Mode and a COTS application for recording what the Bus Monitor sees. In this Master Class you will have the opportunity to interact with our applications engineering team as they discuss the many advantages of using the UEI 1553 Bus Monitor features.


4/30/20: RELIABLE ON-BOARD MONITORING & VERIFICATION FOR YOUR SYSTEM: LEARN ABOUT THE UEI GUARDIAN ADVANTAGE.

Takeaways:

Review of open/broken sensor detection
Learn about channel self-test without disconnection of field wiring
Overview of current/voltage monitoring of outputs with circuit breaker functionality
And more!

In this Master Class, UEI application engineers with walk you through our sophisticated and reliable on-board monitoring diagnostics we call "Guardian", also known as "Built-In-Test" or BIT. Whether you are in the field or a laboratory environment, the ability to quickly and easily test a system, as well as to detect a fault (i.e. short/open circuit) for rapid resolution is critical. From software development to deployed system troubleshooting, Guardian offers something at every level of your application. Interact with our applications engineering team as they discuss many advantages of the Guardian series I/O boards extensive set of built-in check and double-check parameters.


4/23/20: EDGE COMPUTING & IoT

Takeaways:

Overview of UEI as IoT Edge Computer and Real-World Applications
Using MQTT to publish data to a Cloud service
Virtualizing expensive Avionics Devices with the VISTAS protocol
Overview of UEI in HUMS (Health Usage & Monitoring) Applications -- Guardian features to be reviewed in next Master Class!
And more!

In a typical Internet of Things (IoT) system, you have embedded sensors (and controllers) at one end sending/gathering (and receiving) data, and cloud computers at the other end processing that data. Linking these two parts requires a crucial component called the "edge computer." In this Master Class, UEI's Application Engineers will discuss solutions using Programmable Automation Controllers (UEIPACs) that fill the role of an IoT edge computer -- giving you the ability to monitor, control or gather data in your IoT system. If you are new to UEI Master Classes, this is a weekly recurring series where you will have the opportunity to interact live with UEI engineers who are eager to answer your questions.


4/16/20: MIL-STD-1553 PART 1: GETTING STARTED WITH PROGRAMMING

Takeaways:

Understanding the PowerDNA API.
Overview of PowerDNA and C Code running a 1553 application.
How to run UEI 1553 in Hosted and Embedded modes.
And much more!

In this introduction to UEI's 1553 offering, we will provide an overview of the I/O board and begin to answer the question, "How do I use a variety of programming languages to access the full functionality of UEI's MIL-STD-1553 I/O components?" To help get you the data you need quickly, UEI has created a graphical utility we call PowerDNA Explorer. In this Master Class, UEI application engineers will show you how easy it is to set up and use, as well as other methods to access your 1553 data. If you are new to UEI Master Classes, this is a weekly recurring series where you will have the opportunity to interact live with UEI engineers who are eager to answer your questions.


4/9/20: DATA ACQUISITION MODES

Takeaways:

Understanding of Point-by-Point Mode (software controlled timing).
Discussion of DMap (Data Mapping) vs. VMap (Variable Data Mapping).
Overview of ACB Mode (Advanced Circular Buffer) and automated data collection.
And much more!

UEI offers data acquisition and control modes that satisfy an assortment of application requirements, such as immediate-data control modes, VME/Reflective Memory alternatives, and high-speed acquisition modes, to name a few. In this Master Class, UEI application engineers will dive into a comparison of our DAQ mode features, followed by an overview of each mode and FAQ review.


4/2/20: ADVANCED HARDWARE SYNCHRONIZATION

Takeaways:

Learning about synchronizing boards across single or multiple chassis.
Overview of external clocking signal routing.
Discussion of Pulse Per Signals (PPS) for multiple IOMs.
Setting different sample rates on different I/O boards.
Trouble shooting signals -- lost and/or interrupted.

In this Technical Master Class, UEI application engineers will provide a high-level overview of externally clocking and syncing UEI I/O boards. We include a more detailed look at sync - including a description of the UEI Sync API and the various configuration settings for clock, trigger, and timestamps.