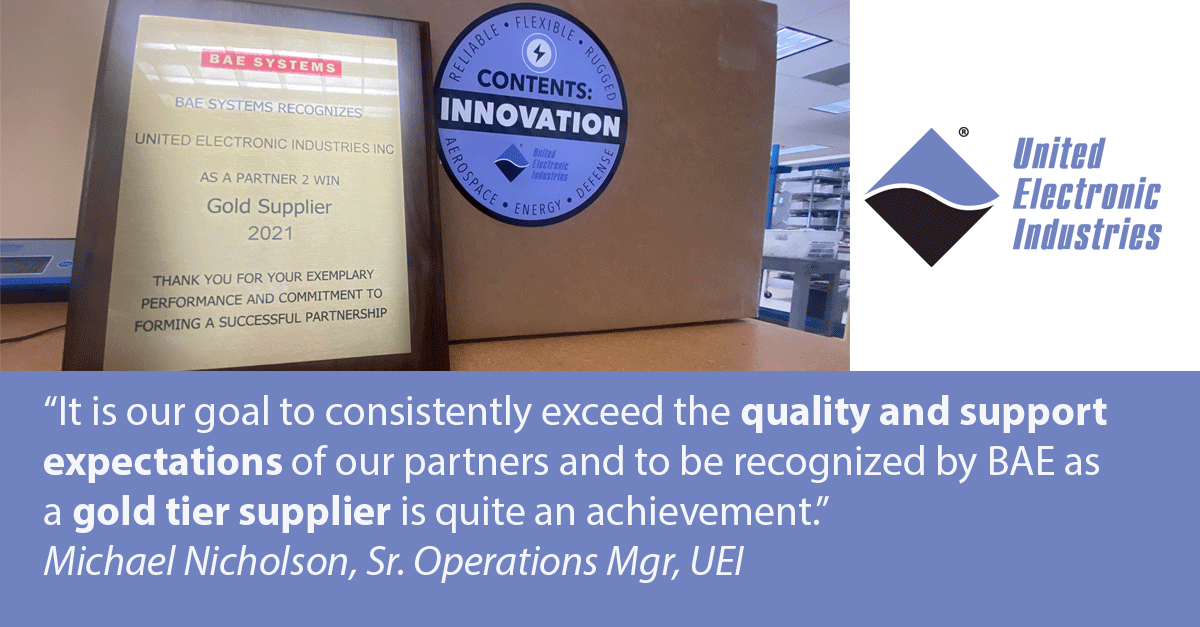 Norwood, MA – United Electronic Industries (UEI) today announced it received a Gold Tier Award for exceptional performance and contributions to supply chain success for BAE Systems, Inc.'s Electronic Systems sector. UEI was honored at a virtual ceremony and was selected from the pool of suppliers that worked with BAE Systems in 2021.

"The entire UEI team is very proud to be honored by BAE with this award. It is our goal to consistently exceed the quality and support expectations of our partners and to be recognized by BAE as a gold tier supplier is quite an achievement. We look forward to supporting BAE with exceptional products and services for years to come," said Michael Nicholson, Senior Operations Manager.
BAE Systems' Partner 2 Win program is designed to achieve operational excellence and eliminate defects in its supply chain by raising the bar of performance expectations to meet the demand of current and future customers. As part of the program, BAE Systems meets regularly with its suppliers to transfer best practices to ensure that the components and materials that compose BAE Systems products meet the highest quality standards.
"We are very grateful for the partnership of companies like United Electronic Industries and look forward to another year of exceptional performance," said Kim Cadorette, vice president of operations for BAE Systems' Electronic Systems sector.
About BAE Systems
BAE Systems, Inc. and its 35,000 people are part of a global defense, aerospace and security company with 89,600 employees worldwide. We deliver a full range of products and services for air, land, sea and space, as well as advanced electronics, intelligence, security, and IT solutions and support services. Our dedication shows in everything we design, produce and deliver— to protect those who protect us in a high-performance, innovative culture. We push the limits of possibility to provide a critical advantage to our customers where it counts.
About United Electronic Industries
UEI's family of rugged chassis and extensive selection of over 90 I/O boards are ideal for simulation, test and data acquisition markets in aerospace, defense, industrial and transportation applications. UEI's customers include tier one aerospace, defense, space and industrial companies, including all military branches. UEI's world class customer support and service enable rapid customer deployment and seamless integration into virtually any popular software environment including LabVIEW, Simulink/MATLAB, .NET, Java as well as C/C++. UEI headquarters is located at 249 Vanderbilt Avenue, Norwood, MA 02062. Additional UEI offices located in Germany and the United Kingdom.
Learn about how UEI supports BAE with HUMS solutions