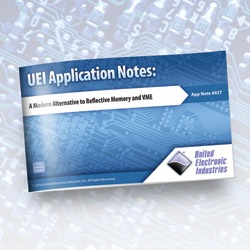 Walpole, MA (July 13, 2010) — United Electronic Industries (UEI) has released a new white paper/case study/application note that highlights the benefits of using UEI's Ethernet RACKtangle and Cube I/O Chassis instead of Reflective Memory and VME. Manufacturers of reflective memory/VME systems are increasingly having to make difficult re-design decisions as VME products are gradually being discontinued. There is nothing more disconcerting to a system supplier than being faced with an end-of-life "last buy" notice from a supplier of a key system component. Fortunately, UEI can offer equivalent replacement components for VME products that not only satisfy the functional specs but also offer improved performance and lower cost as well.
The case study included in the white paper describes the benefits FlightSafety International realized by moving away from outmoded VME-based technology to UEI's modern Ethernet I/O solutions. By switching from VME hardware and reflective memory to UEI I/O chassis and Ethernet technology, FlightSafety not only extended the design life of its simulator products, but also achieved improved performance, and realized significant cost savings. Its customers achieved similar goals.
A copy of the white paper can be found here.
About UEI Founded in 1990, UEI is a leader in the PC/Ethernet data acquisition and control, Data Logger/Recorder and Programmable Automation Controller (PAC) markets. UEI's I/O "Cube" and RACKtangle are compact, rugged platforms, ideal for DAQ, Logging and control applications in a wide range of applications and industries such as automotive, aerospace/aviation, unmanned vehicles, appliance test, simulator control, in-vehicle test, wind and solar power system control, semiconductor manufacturing, medical equipment and more. UEI offers both COTS and custom products to OEMs, end-users, and systems integrators worldwide. With analog, digital, counter, CAN-bus, Serial I/O, ARINC-429, 1553 I/O and more, UEI will have the interface you need. UEI supports all popular Windows, Vista, Linux and Real-time operating systems, programming languages, and application packages such as LabVIEW, MATLAB, and DASYLab.
* * * *