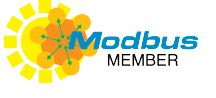 The UEIModbus™ Racks are compact, rugged, Ethernet based data acquisition and control interface that communicates with a host computer or PLC over MODBUS TCP. The UEIModbus 1200-MIL provides slots for 12 I/O boards. Its flexibility allows you to configure one or more Cubes or RACKs to match the specific I/O requirements of your application. The UEIModbus is ideally suited for a wide variety of industrial monitoring and control applications.
The Modbus messaging protocol was developed by Modicon in 1979 and is used to establish client-server communication between intelligent devices. It is a defacto standard, truly open and the most widely used network protocol in the industrial manufacturing environment. Modbus devices communicate using a client-server configuration. Only one device (the client) can initiate transactions (called queries). The other devices (servers) respond by supplying the requested data to the client, or by taking the action requested in the query.
The UEIModbus 1200-MIL Rack functions as a Modbus server that is easily accessed by any software client acting as a Modbus client. Most popular HMI software supports the Modbus protocol.
The UEIModbus supports all AI, AO, DI, DO and CT layers that are compatible with UEI's Rack architecture. Analog input channels are read using two input registers encoded as a single 32-bit floating point value. Analog output channels are written to using two holding registers encoded as one 32-bit floating point value. Digital input ports are read using one or two input registers (depending on the port width). Each digital input line is also available as a discrete input register. Digital output ports are written using one or two holding registers (depending on the port width) and similar to the digital inputs, each digital output line is also available as a coil register. Counter or quadrature encoder inputs are read using one or two input registers (depending on the counter resolution).
The UEIModbus 1200-MIL is a deployment of UEI's popular RACKtangle architecture. Designed for use in the toughest environments, the UEIModbus 1200-MIL is an ideal solution for military and commercial applications including use on oil drilling platforms and refineries, heavy machinery, outdoor test stands and any other I/O application that will be exposed to the elements. All connectivity is through ROHS compliant 38999 connectors.
Electronically, the UEIModbus 1200-MIL RACKtangle is identical to the standard DNR series RACKtangle except for the added hold-up and protection circuitry added to the power supply inputs. (This power supply conditioning is required in order to meet MIL-STD-1275.) This means the DNR-MIL uses our standard DNR-series board (e.g. DNR-AI-217 or DNR-1553-553). With over 50 unique I/O boards and 12 slots available there's sure to be a configuration perfectly matching your application.
The new RACKtangle is designed to meet the most commonly required elements of MIL-STD-461 and -810 and is sealed to at least IP66/NEMA6 standards. All this is housed in a compact 17.5" x 8.125" x 7" chassis, weighing less than 22 pounds and typically consuming less than 40 Watts. In addition, no rotary cooling fans are used in the design which maximizes MTBF and mechanical reliability. All internal printed circuit boards are conformal coated to ensure the highest reliability.