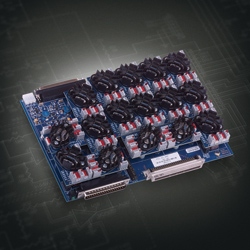 Walpole, MA (April 27, 2010) — United Electronic Industries (UEI) is pleased to announce the immediate availability of the PD-AO-AMP-115, a 16-channel, 115 V, analog output buffer amplifier for use with UEI's Cube and RACKtangle I/O systems.
Designed for applications where the standard ±10 V of most analog output cards is not sufficient; the PD-AO-AMP-115, is a16-channel DIN-mountable accessory that connects directly to UEI's DNR-AO-308 and DNA-AO-308 cards. By setting the gain on the card and the external panel with the appropriate values, the output level of any channel can be set independently to levels as high as ±110V.
Software provided with the system includes support for all popular operating systems including Windows, Linux, QNX, VxWorks and more. Windows/Vista software for the DNA/DNR-AO-308 is provided in the UEIDAQ Framework. The Framework provides a comprehensive, easy to use API that supports all popular programming languages and DAQ applications, including LabVIEW, MATLAB/Simulink, DASYLab or any application supporting ActiveX, OPC or Modbus TCP control.
"The AO-AMP-115 is a very unique product.", says UEI President Shaun Miller, "The board is ideally suited for a wide variety of applications and in particular is a perfect solution for driving piezo-electric based mirror/optical transducers."
Pricing
PD-AO-AMP-115
Delivery from Stock
PD-AO-AMP-ENCL (optional enclosure)
Delivery from Stock
About UEI
Founded in 1990, UEI is a leader in the PC/Ethernet data acquisition and control, Data Logger/Recorder and Programmable Automation Controller (PAC) markets. UEI's I/O "Cube" and RACKtangle I/O chassis are compact, rugged platforms, ideal for DAQ, Logging, and control applications in a wide range of applications and industries including automotive, aerospace/aviation, unmanned vehicles, appliance test, simulator control, in-vehicle test, wind and solar power system control, semiconductor manufacturing, medical equipment, and more. UEI offers both COTS and custom products to OEMs, end-users, and systems integrators worldwide. With analog, digital, counter, CAN-bus, Serial I/O, ARINC-429 I/O and more, UEI will have the interface you need. UEI supports all popular Windows, Vista, Linux and Real-time operating systems, programming languages and application packages, including LabVIEW, MATLAB and DASYLab.
* * * *