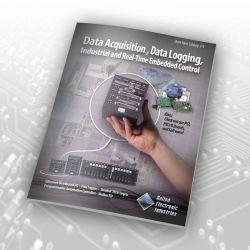 United Electronic Industries (UEI) is pleased to announce the release of their Volume 9 product catalog. The free catalog details UEI's innovative Cube and RACKtangle I/O chassis and how they may be deployed as Ethernet I/O systems, standalone data loggers, Programmable Automation Controllers (PACs), Simulink targets, and Modbus TCP slaves. The catalog also describes the I/O boards that may be used with the Cube/RACKtangle chassis, including Analog and Digital I/O counter timers, ICP/IEPE interfaces, ARINC-429 and MIL-1553 avionics, serial and CAN-bus ports, and much more. The new volume also includes descriptions of several diverse product application briefs such as flight testing, structural testing, and VME replacement possibilities.
A free copy of the catalog is available in downloadable PDF format and/or a hard copy may be requested by visiting http://www.ueidaq.com/cat/. Catalogs may also be requested by phone at: (508) 921-4600 or fax at: (508) 668-2350.
About UEI
Founded in 1990, UEI is a leader in the computer based data acquisition and control industry. Serving customers world-wide, UEI products based upon PCI, PXI, ISA and Ethernet interfaces offer unequaled performance as well as flexibility. We are committed to providing the highest quality hardware, software, and services, enabling engineers and scientists to interface data-acquisition and control hardware to the real world. Through our state-of-the-art technologies, we serve the needs of individual researchers and developers as well as OEMs.
* * * *