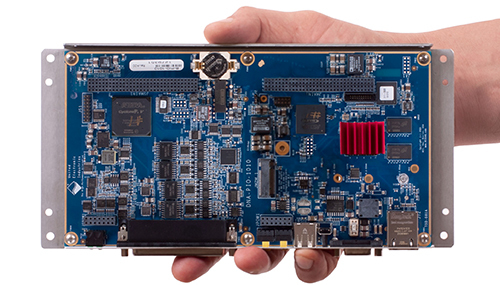 Norwood, MA (December 16, 2021) - United Electronic Industries (UEI) is pleased to announce the release of its new compact, rugged, and flexible Panel I/O Multifunction I/O solution designed to fit just about anywhere you need control and monitoring for your application. Designed for a small footprint, the Panel I/O system is ideally suited to be embedded in systems such as simulators/trainers, engine test systems, aerospace test systems, and installation in locations without easy access.
Look no further for extensive and dynamic functionality in a small data acquisition (DAQ) and control solution as UEI's Panel I/O can handle industrial voltages up to 80 volts, has 40 analog and digital input/output channels, and includes the benefit of an onboard ARM microprocessor. There is even space left for two more boards from our selection of avionics, simulation, and DAQ I/O – over 85 boards available! The multifunction I/O capability ensures you have flexibility with high channel density so you can have all the I/O channels required in the space available, as well as added connectivity options with an I²C and an RS232/422/485 port. Plus, at only 4.5" x 8.5" x 0.75", Panel I/O is about the size of most I/O boards. The unit is also designed for extreme usage with rugged specifications of 5g vibration, 100g shock, and temperatures of -40°C to 70 °C.
Panel I/O takes advantage of UEI's single API for easy integration with all UEI products. Enjoy the flexibility of support for all the popular operating systems including Windows, Linux, QNX, VxWorks, RTX, and other popular Real-Time OSs. UEI also provides you with a variety of programming options including C, C++, C#, Python, and applications like LabVIEW, Simulink, and much more. The system is also backed by UEI's 10-Yr Availability Guarantee and 3-Yr Standard Hardware Warranty, meaning your application will be sustainable for years to come.
The Panel I/O (UEI-PIO-1010) is available for purchase starting at $2,670.00.
Call 508-921-4600 or email sales@ueidaq.com for delivery options. For more information, please visit www.ueidaq.com.
###
About United Electronic Industries, Inc
UEI's family of rugged chassis and extensive selection of over 85 I/O boards dominates the simulation, test, and data acquisition markets in aerospace, defense, industrial and transportation applications. UEI's customers include tier 1 aerospace, defense, space, and industrial companies, and all branches of the military. UEI's world-class customer support and service enable rapid customer deployment and seamless integration into virtually any popular software environment including LabVIEW, Simulink/MATLAB, .NET, Java as well as C/C++. UEI headquarters is located at 249 Vanderbilt Avenue, Norwood, MA 02062. Additional UEI offices are located in the UK and Germany.