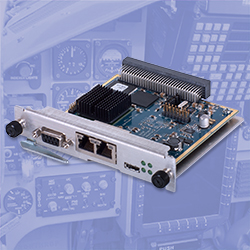 Walpole, MA (November 19, 2013) — United Electronic Industries (UEI) today announced the release of a new dual-channel ARINC 664 (Avionics Full-Duplex) switched Ethernet communications interface board. For safety-critical applications using the company's PowerDNA I/O Cubes and RACKtangles, the DNx-ARINC-664 supports ARINC-664 communication protocols and can operate as an avionics receiver, transmitter or network/bus monitor. Unlike any other commercial solution, the DNx-ARINC-664 board is easily integrated with multiple UEI I/O boards in a single chassis to create a complete avionics I/O test suite. The new board is also an ideal solution for use in a wide variety of simulators.

Several unique features and modes give the user unmatched flexibility. The DNx-ARINC-664 may be configured as two independent channels or one dual-redundant channel. In input mode, users can time-tag inputs with resolutions as low as 10 µs. The input automatically provides error/integrity checking. Receive filtering is also supported based on the VL, Port and error detection. Its Monitor Mode allows users to capture all network traffic, or filter certain data so only the desired information is captured. The Monitor mode will also capture all UDP network traffic and gather a variety of statistics from the bus/network.
The board is designed to inject various errors if desired, including logical, timing and 664 protocol errors. Its transmitter can generate consecutive sequence numbers or user-defined sequences. The board is based on Freescale's MPC8347 processor running the DO-178 certifiable µC microcontroller operating system. Advanced users may also wish to implement special functions in the board's firmware, which can be implemented with custom code. A diagnostic RS-232 port is also provided to enable easy access to the all levels of the board's functionality.
Software for the DNx-ARINC-664 series is delivered via UEI's standard software suite. A high-level, easy-to-use API is provided for Windows, Linux and most other real-time operating systems, including VxWorks, QNX, RTX and more. The API not only supports the 664 interface, it also supports the entire range of UEI's I/O board family. The DNx-ARINC-664 is licensed by Airbus, an EADS company.
Pricing starts at $5,500 with delivery from stock.
About UEI
Founded in 1990, UEI is a leading manufacturer of PC/Ethernet-based data acquisition and embedded control systems. The company's Cube and RACKtangle I/O chassis are compact, rugged platforms, ideal for data acquisition, logging, and control applications in a wide range of industries including automotive, aerospace/aviation, unmanned vehicles, appliance test, simulator control, in-vehicle test, wind and solar power system control, semiconductor manufacturing, medical equipment, and more. Headquartered in Walpole, Massachusetts, UEI offers both COTS and custom products to OEMs, end-users, and systems integrators worldwide.
* * * *