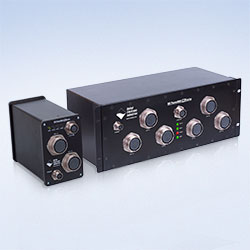 Walpole, MA (February 11, 2014) — United Electronic Industries (UEI) today announced two new military-grade DAQ (Data Acquisition) and I/O Control platforms. The DNR-MIL and DNA-MIL are designed for MIL-STD-461/810/1275 compliance and deployment in environmentally harsh applications involving military and aerospace computing, oil drilling platforms and storage refineries, heavy machinery, outdoor test stands and other I/O applications exposed to hostile environments. Both platforms offer several technological advantages, including the ability to create a configurable COTS-based solution for virtually any analog/digital I/O sensor, interface and control application.
Using an advanced modular architecture, the DNR-MIL and DNA-MIL are supported by a growing family of over 50 plug-and-play-compatible analog, digital and communications I/O boards. Specific interfaces are available for: ARINC-429, MIL-1553, CAN, RVDT/LVDT, synchro/resolver, RS-232/422/485, strain gauge, quadrature encoder, high-voltage analog outputs, high-drive outputs up to 50 mA, analog inputs up to 300 V, DIO to 150 V, and other applications. All I/O boards are accessed through 38999-style connectors using a single API layer which greatly simplifies the software development effort.
Manufactured in the USA with a 10-year availability guarantee for program longevity, each platform is factory tested, rated for operation from -40°C to +70°C, and able to withstand 5g vibration and 100g shock. On-board BIT (Built-in-Test) diagnostics also help ensure uptime and failsafe operation. Delivering unmatched deployment flexibility, the new chassis can be configured as either computer-hosted or standalone platforms. They can also run Simulink models for actual Hardware-In-the-Loop (HIL) testing and rapid prototyping while users remotely monitor and tune parameters. For interoperability with PLCs and SCADA systems, the DNx-MIL Series is also Modbus/TCP compatible.
The DNR-MIL and DNA-MIL platforms support all popular and MIL-hardened operating systems and programming languages, including Windows, Linux, VxWorks and QNX as well as an extensive array of application packages, including LabVIEW and Simulink.
Pricing starts at $6,000 USD and availability typically ranges from two to six weeks depending on order quantities. Shipments will begin in April of 2014.
About UEI
Founded in 1990, UEI is a leader in the PC/Ethernet data acquisition and control, Data Logger/Recorder and Programmable Automation Controller (PAC) markets. UEI's I/O Cube and RACKtangle chassis are compact, rugged platforms, ideal for DAQ, Logging, and control applications in a wide range of industries including automotive, aerospace/aviation, unmanned vehicles, appliance test, simulator control, in-vehicle test, wind and solar power system control, semiconductor manufacturing, medical equipment, and more. UEI offers both COTS and custom products to OEMs, end-users, and systems integrators worldwide. With analog, digital, counter, CAN-bus, Serial I/O, ARINC-429 I/O and more, UEI has the interface you need. UEI supports all popular Windows, Vista, Linux and Real-time operating systems, programming languages and application packages, including LabVIEW, MATLAB and DASYLab.
* * * *