What's the difference between the UEI Cube and Rack boards? Can you tell?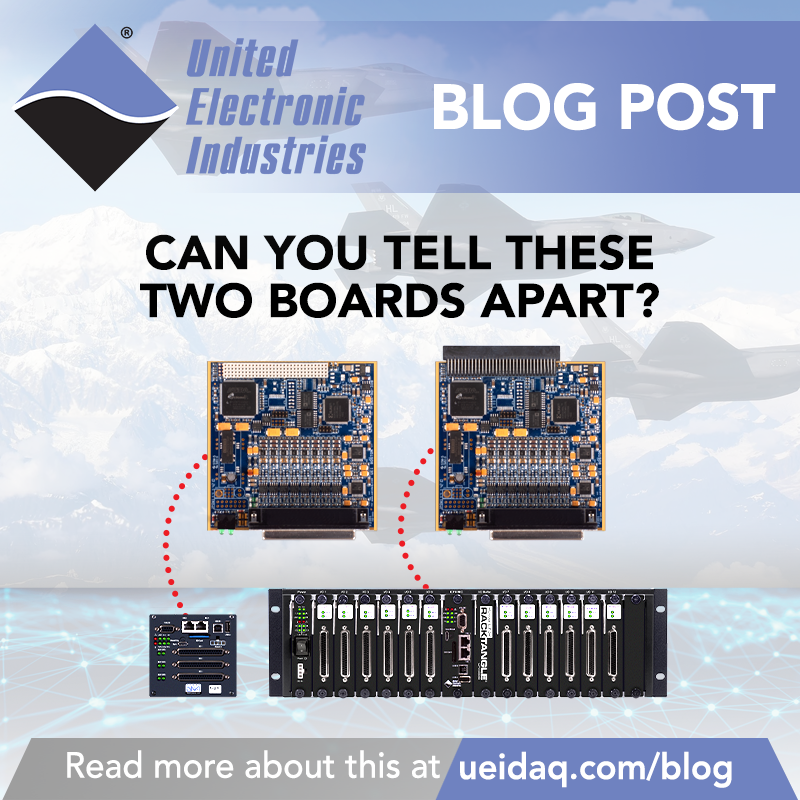 We'll give you a hint...it's only the housing!
Electrically identically, the only difference is the housing on the rack boards for easy removal in and out of a UEI RACKtangle and FLATRACK system.
Our versatility is the perfect fit for projects that need to have different form factor options.

Are you designing a test bench? Connect with us today!

---
UEI's Extensive Video Library

Videos designed for a variety of viewers such as engineers, project managers, purchasing agents & system integrators.
About Us Overview Technical WebinarsEmbedded Systems Quick Start/How To Guides
---
In The News
1/24/23 | Unmanned Systems Technology.com | Q&A with UEI | Read about UEI innovations, our UEIPAC programmable automation controller system, digital twinning, and how we can support unmanned solutions!
2/5/23 | ENEWS UEIDAQ.com | DAQ Business Buyout & Customer Feedback
2/8/23 | CNBC.com | SpaceX prepares to test fire for a massive test this week: Firing all 33 Starship engines at once
Daily/weekly enews | AUVSI.org | The Association for Uncrewed Vehicle Systems International (AUVSI), is a nonprofit dedicated to the advancement of uncrewed systems & robotics.
Latest news | UnmannedSystemsTechnology.com | The latest unmanned systems news for UAV, UAS, UGV, USV, UUV, drones & robotics.
---
UEI Trade Shows 2023:
Satellite Show | Booth#1954 | March 13-16 | Washington, DC | Learn More
ATW Aerospace Tech Week Europe | Booth 805 | March 29-30 | Munich, Germany | Learn More UEI's Christian Herbepin Presenting Live 3/29@11:30am*******
MDEX, Michigan Defense & Exposition | Booth H12 | April 17-20 | Warren, MI | Learn More
Forum VTOL | Booth 105 | May 16-18 | West Palm Beach, FL | Learn More
UEI Webinars | SAVE THE DATES | July 27 & November 9, 2023
Check out all of our scheduled exhibitions coming up this year!

---
TALK TO US!

Email | Facebook | Instagram | LinkedIn | Twitter | UEIDAQ.com | UEI Careers | Youtube
#io #daq #digital #analog #synchro #resolver #lvdt #rvdt #vdt #linkage #temperature #speed #vibration #serial #canbus #multifunction #ueidaq #systemintegrators #systemintegrations #swap #DOD #testbenches #embedded #testingdesignvalidation #formfactor #OEM #electricalsensors #dataacquisition #UAV #UAS #UGV #drones #UEIPAC