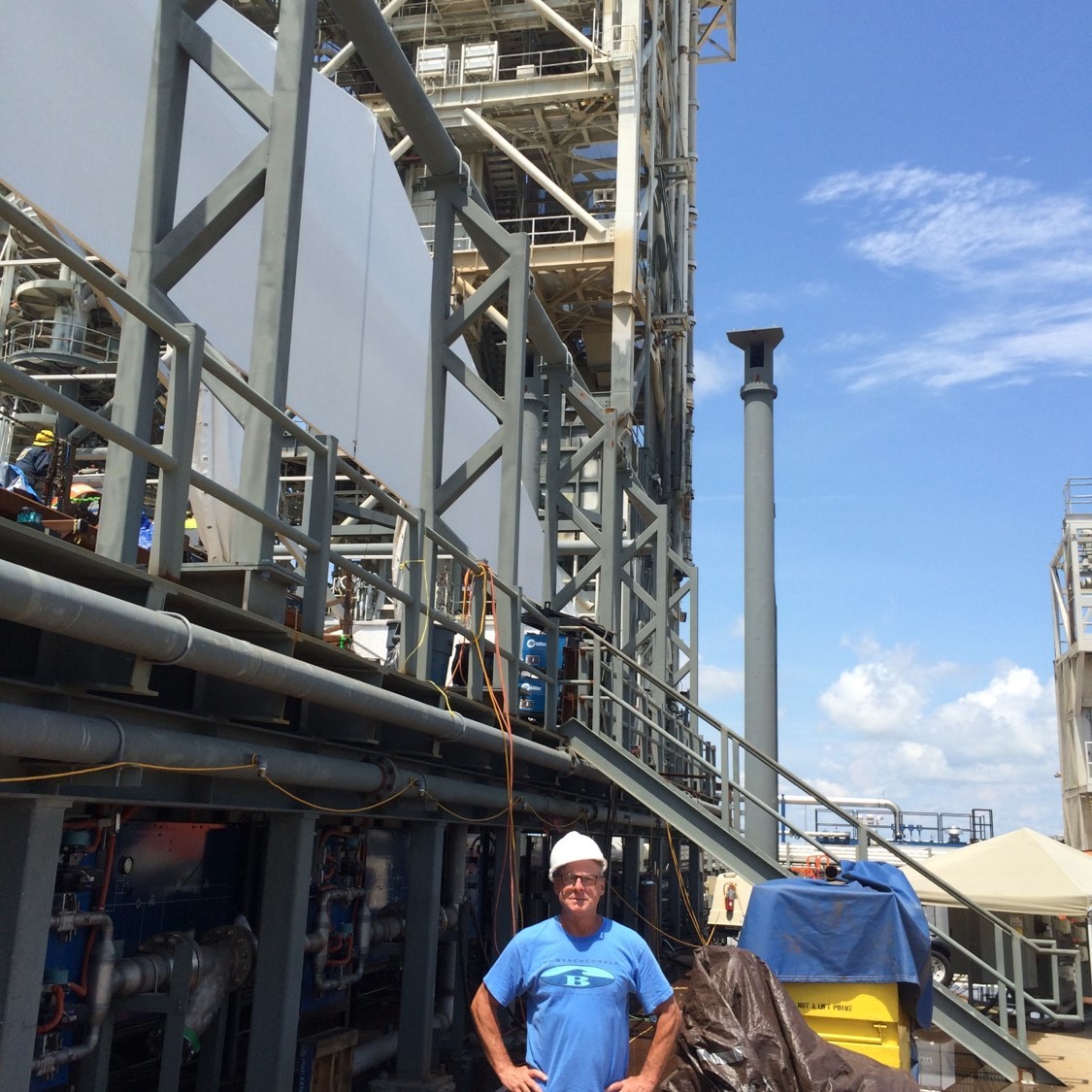 It is not as hard to get onto Cape Canaveral, home of Launch Complex 39A, the world's most famous launch site, as one might think. Mostly what you need is an invite. Because of my company United Electronic Industries' involvement with a company called SpaceX, I just happened to have one.
The first thing I noticed after clearing security was that the guards at the base entrance carried machine guns. Once you are inside, though, you have pretty much free access to the whole place - no escort required. I paid my respects at the site of the Apollo 1 fire that killed Virgil Grissom, Edward White and Roger Chaffee. Checked out what is left of the launch pad and Block House at LC 14, where Friendship 7 was launched, aboard which John Glenn became the first American to orbit the Earth. Stood on the platform where SpaceX lands its Stage 1 boosters, and smelled the burned spots on the ground where the exhaust flames from the Merlin engines scorched the concrete. They smelled like kerosene.
UEI's reputation and willingness to design I/O boards to SpaceX's specifications earned us a spot on the launch pad. We have systems in all the mission-critical spots. There are two of our fully populated DNR-12-1G RACKs in the Instrument Bay. Two more in the Rocket Propellant Farm. Three in the Liquid Oxygen Farm. Two in High-Pressure Gas. Three just below the Crown, what you and I would call the pad, or the place where the rocket sits. Three more in the Upper AGE (Central Control for the Aerospace Ground Equipment). Four more sprinkled in the Upper and Lower Strongback, that support structure next to the rocket that holds the umbilical lines that will fall away from the rocket at liftoff. And one more in the hanger, where they refurbish the recovered Stage 1 boosters. That is 240 of UEI's various I/O boards controlling and monitoring virtually every aspect of each of SpaceX's successful launches that have occurred at 39A since February 19, 2017.
There has been a lot of them. Twenty Falcon 9 missions and three more of the Falcon Heavy, as of September 2020. And let us not forget NASA astronauts Doug Hurley and Bob Behnken, who recently became the first crew to launch into space since July of 2011. They could not have visited the Space Station without UEI.
Come back later for the next exciting chapter of how UEI and SpaceX teamed up to get America back into space!
UEI Products Used In This Application

---
Goosebumps promise. Watch our friends at SpaceX as they make history and successfully land a Stage 1 booster for the first time below.
---
Whether you are launching or landing - we are there to help! See how UEI supports the Space Industry below.
Explore more UEI hardware solutions in the space industry:
Application Story: UEI & NASA SAFFIRE
The SAFFIRE program was designed to study the behaviors and characteristics of fire in space. In order to acquire key data, NASA needed compact and rugged data acquisition hardware and I/O that could handle the rigors of an extreme environment. UEI hardware ensured the success of the SAFFIRE missions by guaranteeing reliable and accurate data collection.
Read about the complete solution
Application Story: UEI & Blue Origin
When Blue Origin, a space exploration company founded and privately funded by Amazon's Jeff Bezos, needed to consolidate custom and COTS (Commercial Off The Shelf) data acquisition and control hardware into one platform they looked to UEI for their solution. UEI's standardized hardware solutions helped Blue Origin save time, minimize maintenance, accelerate development, and compete in the space race. Learn more here.
Read about the complete solution