Norwood, MA. United Electronic Industries (UEI), a leading provider of cutting-edge data acquisition, test, and control hardware solutions, is thrilled to introduce a host of new cybersecurity solutions available for its systems. Specifically designed to meet the stringent security requirements of aerospace and defense industries, these enhancements offer unparalleled data protection, secure boot, secure key generation and storage capabilities, FIPS 140.2 encryption, Trusted Platform Module (TPM) integration, and more to help you on your way to NIST 800-213 compliance.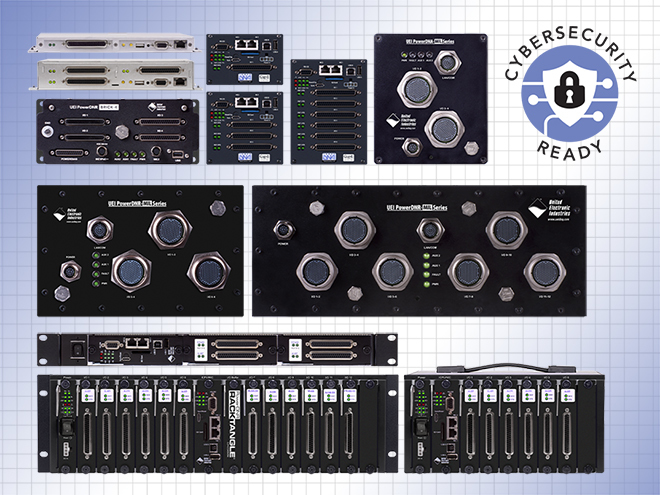 UEI has compiled a three-tiered cybersecurity solution to empower aerospace and defense organizations with fortified data security and robust defense against evolving cyber threats. Each UEI system chassis comes with a CPU and can house a selection of I/O boards custom-selected for your application. UEI cybersecurity features are available on both SoloX/ARM and ZYNQ UltraScale+ CPU options. Once a user identifies the correct processor, a programmer toolkit subscription provides the software tools necessary to create a solution upon which the user can enable administrative controls, generate passwords, set up logging, create auditing policies, and much more.
In the final step, the user loads their application onto UEI hardware with the intuitive GUI-based UEI-SAT Security Automation Tool. This tool allows for easy setup of the boot process and hardware configuration to give the user confidence that cybersecurity was done right. These comprehensive tools take the painstaking guesswork out of NIST-level cybersecurity enablement and remove the need for cybersecurity programming expertise.
By offering these advanced cybersecurity tools, UEI continues to demonstrate its commitment to delivering cutting-edge technology solutions that meet the unique demands of the aerospace and defense industries. With enhanced data security, organizations can have peace of mind while utilizing UEI hardware, knowing that their critical systems and sensitive information are well-protected.
UEI offers over 90 different I/O boards, including analog input (with up to 24-bit resolution), analog output, digital I/O, avionics (MIL-STD-1553, ARINC 429/453/708/664), serial and CAN communications, counter/timer, quadrature encoder input, and more for a wide array of applications. Typical applications include hardware-in-the-loop, avionics simulators, vehicle controllers (manned or unmanned), health usage and monitoring (HUMS), test systems, and more. All PowerDNA products are also backed by UEI's revolutionary 10-year availability guarantee and a standard 3-year hardware warranty, with the ability to extend up to 10-years to mitigate obsolescence issues.
For more information on UEI's comprehensive range of data acquisition, test, and control solutions featuring advanced cybersecurity tools, please visit www.ueidaq.com or contact our sales team at sales@ueidaq.com.
About United Electronic Industries:
UEI's family of rugged chassis and extensive selection of over 90 I/O boards are ideal for simulation, test and data acquisition markets in aerospace, defense, industrial and transportation applications. UEI's customers include tier 1 aerospace, defense, space, industrial companies, and all branches of the military. UEI's world class customer support and service enable rapid customer deployment and seamless integration into virtually any popular software environment including LabVIEW, Simulink/MATLAB, .NET, Java as well as C/C++. UEI headquarters is located at 249 Vanderbilt Avenue, Norwood, MA 02062. Additional UEI offices located in Germany and the United Kingdom.
---
UEI cybersecurity automation tools will save you time, money and help keep your embedded system safe, secure, and NIST compliant.
How can UEI Cybersecurity Solutions help you?
---
Upcoming Webinar: