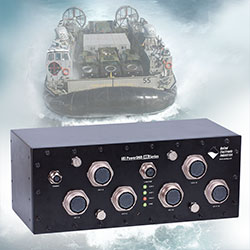 Walpole, MA (June 4, 2016) — United Electronic Industries (UEI) is pleased to announce the US NAVY has selected the company's DNR-MIL series I/O control chassis in conjunction with its VxWorks BSP as the new Command, Control, Computers, Communication and Navigation (C4N) SBC4 Control, Alarm and Monitoring System (CAMS) for the LCAC fleet. UEI's DNR-MIL chassis was selected as it was flexible enough to meet all the system's myriad requirements, rugged enough to be deployed on the boat and at the same provided a fully COTS solution. UEI's 10-year availability guarantee was also a primary consideration as the solution must be maintainable for many years.
Based on a robust PowerPC processor, running VxWorks with fully redundant Ethernet connectivity to the boat's host computer, the UEI system replaces the previous controller, and provides a much smaller, easier to maintain and more reliable solution. The VxWorks support was critical as it allowed much of the software running in the earlier system to be preserved. I/O provided by the CAMS unit includes analog input and output, digital I/O, 16 serial ports and MIL-STD-1553 all connected through standard military style 38999 connectors. Key to the Navy's decision to select UEI's DNR-MIL was it met the required MIL-STD-810 and -461 environmental specifications.
To learn more, please click here.
About the DNR-MIL: The DNR-MIL is a new deployment of UEI's popular RACKtangle architecture. Though the original RACKtangles are quite rugged the DNR-MIL series takes ruggedness to the extreme. Designed for use in the toughest environments, the new DNR-MIL is an ideal solution for military and aerospace deployments. The form factor is also ideal for a wide variety of commercial applications including use on oil drilling platforms and refineries, heavy machinery, outdoor test stands, wind/solar generators and any other I/O application that will be exposed to the elements.
The DNR-MIL offers the following key features.
All connections via military standard 38999 series connectors
Designed to meet MIL-STDs 461, 810 and 1275
Waterproof with pressure relief valves to allow flight operations
Extensive diagnostics and self-test
Dual GigE ports operate independently or bonded/teamed
Extensive software support for Windows, Linux, VxWorks, QNX and more
Deployed as an I/O slave to a host PC or as a standalone device
Supported by over 60 different I/O boards
Perhaps the most unique aspect of the new product is that it is a totally COTS product. Unlike most military grade products which need to be built to order, and may take many months or even years to deploy, the DNR-MIL is comprised of a COTS chassis, into which standard COTS I/O boards are installed. DNR-MIL units fully configured to precisely meet specific application needs can be delivered in 6 weeks or less! The DNR-MIL platform is supported by UEI's popular deployment options. It will run as a slave to an application running on the applications host PC. It can also be deployed as a standalone controller running applications in either Linux or VxWorks. Finally, it can function as a Simulink target, and may run in conjunction with a Simulink host, or run the Simulink model standalone. As a member of the DNR family, the DNR-MIL is supported by over 60 different I/O boards including A/D, D/A, Digital I/O, ARINC-429/708/453, MIL-STD-1553, RVDT/LVDT, Synchro/Resolver, Serial, CAN and much more.
About UEI
Founded in 1990, UEI is a leader in the PC/Ethernet data acquisition and control, Data Logger/Recorder and Programmable Automation Controller (PAC) markets. UEI's I/O "Cube" and RACKtangle are compact, rugged platforms, ideal for a wide range of DAQ, Logging and control applications and industries, including military and commercial aerospace, automotive, missile system test, unmanned vehicle control, appliance test, simulator control, in-vehicle test, wind and solar power system control, semiconductor manufacturing, medical equipment and more. UEI offers both COTS and custom products to OEMs, end-users, and systems integrators worldwide. UEI supports all popular Windows, Linux, VxWorks, QNX and Real-time operating systems, programming languages, and application packages such as LabVIEW and MATLAB. Visit us on the web at www.ueidaq.com.