MOVING ON FROM OBSOLETE VME


VME SOURCING CHALLENGES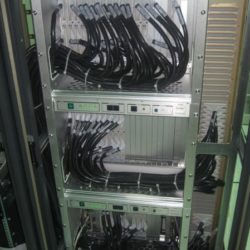 Developed in the 1980's and popularized by VME Microsystems International Corporation (VMIC), the VME architecture was widely used in many programs with large I/O needs. It was built for the Motorola 68000 line of CPUs which was then replaced by the PowerPC architecture.
VME based systems had been the standard for real-time DAQ and embedded control systems for years. However, due to the age of most VME technology, as well as the lack of vendors in the market, many VME users are now facing "end-of-life" issues.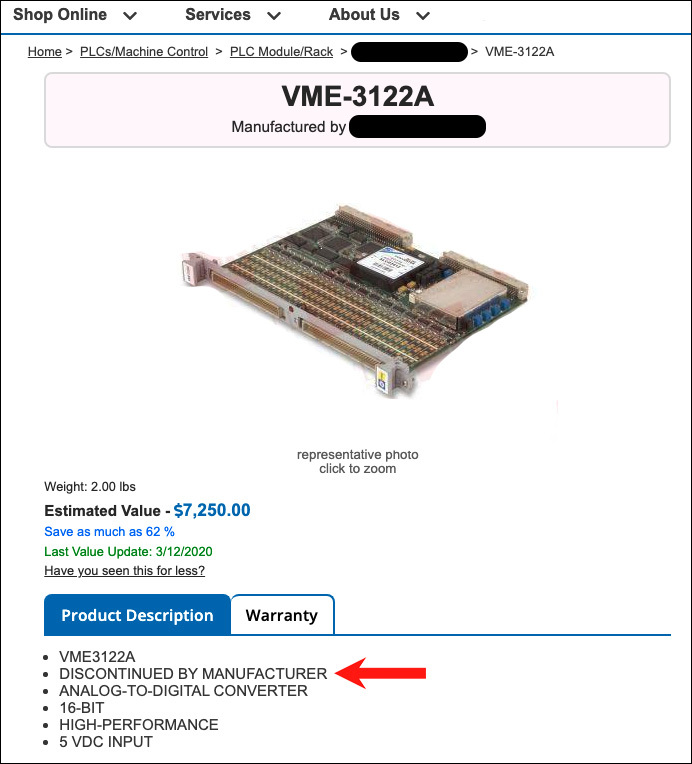 THE VME SYSTEM MARKET IS NOW FACED WITH:
Dwindling supply of VME boards and general VME-based technology.
Struggling to maintain obsolete parts, as well as trying to develop costly and timely in-house solutions to keep systems in operation.
Inability to find vendors with adequate VME supplies, with long lead times, and questionable commitment to future VME manufacturing or support.
Difficulty transferring the manufacturing fixtures and knowledge to offshore partners, particularly low volume analog and digital I/O boards.
Resorting to foraging for VME parts on consumer-to-consumer eCommerce sites.

In today's marketplace, VME is simply not seen as deserving significant investment in new product development or maintenance.



---
Replacement DAQ, Test & Control Technology Factors
Future size, weight, and power requirements need to be considered with the next generation of I/O systems.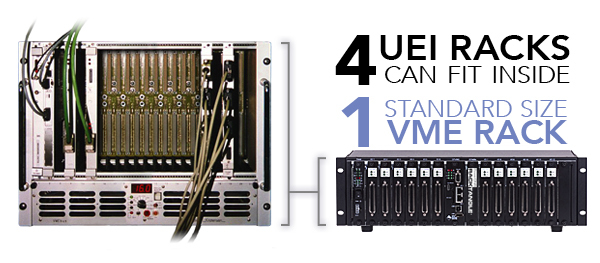 | Size | Weight |
| --- | --- |
| Legacy VME are large, bulky, and often stationary systems. Modern DAQ and I/O systems have flexible sizing and VME just cannot compete. | The smaller the system, the less susceptible it is to shock/vibration. Modern DAQ and I/O drastically reduce weight so systems can be managed by one person. |
| Power | Processing |
| --- | --- |
| Bulky VME systems have large power draws and heat issues. Modern systems are getting smaller and preserve or increase power capability. Boards are smaller and use less power and heat. | VME systems are either not compatible with or cannot be retrofitted with processors for modern workloads. A lack of processing capability leads to work arounds. VME power is not ideal for modern military and industrial applications. |


Replacement VME systems must:
Have the flexibility to fit in a wide variety of spaces.
Be able to operate in a range of conditions.
Needs to be agile and rugged.
Have systems capable for use on new and old parts.
Have advanced testing functionality and troubleshooting capabilities.
Cannot rely on obsolete parts or legacy solutions.


---
Obsolescence: The Reality of the Sunsetting VME Market
The market that current VME users are facing is centered around obsolete components and final time buys. Faced with "End of Life" (EOL) issues, designers are looking for alternative solutions to replace VME entirely. Though redesigns on substitute VME products have happened in some instances, it is not a sustainable solution as VME boards continue to completely sunset. Engineers are now basing their replacement systems on modern commercial-off-the-shelf (COTS) Ethernet I/O products and computers.

UEI's Long-Term Guaranteed Solution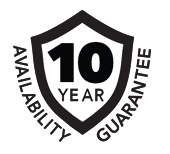 UEI's modern Ethernet I/O technology backed by a 10-Year availability guarantee. UEI guarantees the availability of all RACKtangle (rack systems) and Cube series products for a minimum of 10 years. Unless you are specifically notified at the time of purchase, all hosted (PowerDNx) and embedded (UEIPAC) products will be available for repurchase for at least 10 years. We understand the investment you make by using our products and we ensure long-term product availability. Protecting customers from product obsolescence issues is nothing new at UEI.
---
UEI Solutions Are Ready Today
Transitioning from dated VME to modern DAQ and I/O systems from UEI.

| Price | Performance |
| --- | --- |
| With smaller chassis sizes, shorter wiring, and intuitive software drivers, cost savings becomes very significant with UEI versus VME technology. | UEI offers support for all popular OSs, languages, and applications. UEI provides drivers for Windows, Linux, VxWorks, RTOSs, and more. |
| Software Support | COTS Production |
| --- | --- |
| Our patented DMAP™ Ethernet protocol ensures systems with thousands of I/O points are monitored / updated in less than a millisecond. Learn more in this paper. | All UEI's chassis are COTS products. We offer emergency replacements to get you back up and running immediately. |
---
Application Story: UEI & FlightSafety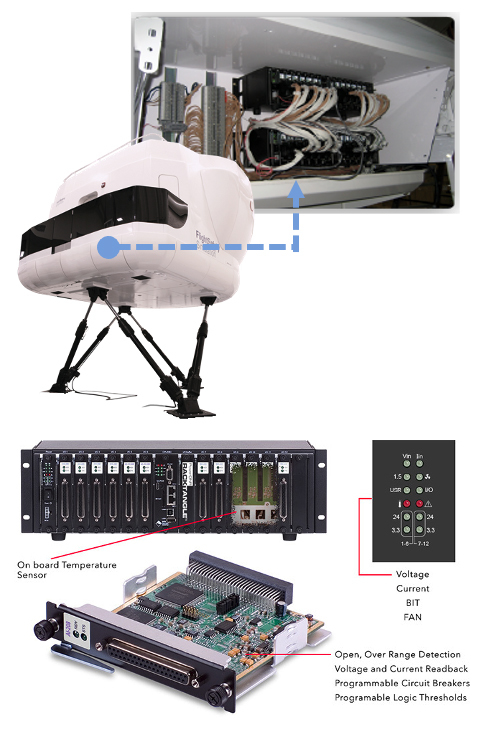 Challenge
Alleviate supply chain headaches of building commercial and military simulators due to product obsolescence and too many suppliers, all while improving the efficiency of their engineering team.


Solutions
Co-designed over a dozen products on standardized UEI reliable, rugged, flexible platform, consolidated three systems into one (combined DAQ and avionics) while significantly reducing cabling/wiring and costly system inspections.


Results: FlightSafety Saved 10's of millions of dollars through greater production and operational efficiencies.
Plus, FlightSafety saved 1000's of hours to install and maintain, simplified procurement process, increased system reliability, mitigated obsolescence, increased uptime, and improved time to market.
---
VME and Reflected Memory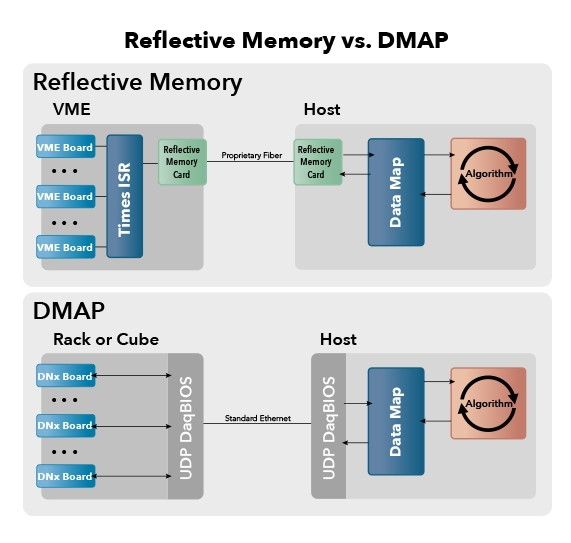 Reflective Memory is a method for sharing and synchronizing data in multiple chassis with VME (VERSA-Module Euro card) boards. A mainstay technology in both military and industrial I/O, Reflective Memory networks typically provide the deterministic timing required by real-time control systems and at the same time minimize the network load on the chassis CPU.
UEI's Approach to Modern Reflective Memory
UEI's patented DMAP™ alternative to Reflective Memory provides the same functionality but eliminates the requirement for dedicated memory boards by taking advantage of recent technology and in particular, speed advances in CPU, FPGA, DDR2 memory technologies. DMAP uses a simpler, less expensive architecture and uses a standard Ethernet technology as the communications link.

DMAP™ Benefits:

Deployed on a standard Ethernet network with true real-time performance.
The basis for the patented DMAP protocol is UDP packets and patented communications control algorithms.
UEI can offer deterministic, real-time update rates up to 4 kHz (250 microsecond updates) on GigE networks.
The data image in the host CPU's memory and the image held in the I/O chassis' data registers is kept identical and synchronized -- eliminating the requirement for any special memory board as utilized in Reflective Memory systems.
DMAP can operate completely in the background.
Various I/O function calls provided in the API simply read and write the appropriate memory locations in the local I/O image.

---
Transitioning Off VME
UEI has solutions available right now to mitigate the time required to replace VME and keep your applications running.

Comprehensive OS Support:


And more!

Preserve your Wiring: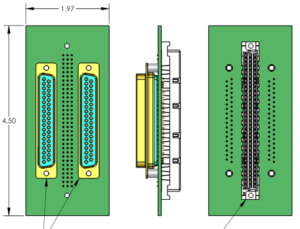 Interface adapters can be designed to preserve the existing cabling. Connect the interface board directly to UEI, and use the existing 96 pin cable!
An example of UEI equivalent replacements appear below. Please call for details!


Hardware:

| VME Board | Description | UEI Equivalent |
| --- | --- | --- |
| VME-2128 | Digital Output Board | DIO-432 |
| VME-1128 | Digital Input Board | DIO-448 |
| VME-3113A | Analog to Digital Converter Board | AI-207 or AI-217 |
| VME-4132-011 | Analog Output Board | AO-333 |
| VME-2232 | Relay Output Board | DIO-462 |
| VME-4152 | Analog Input/Output Board | |
| VME-1111 | RS-422 Level Digital Input Board | CT-602 |
| VME-2533 | RS-422 Level Digital Input Board | |
| VME-2120 | HV DO Board | |
| VME-4120 | D/A Current Out, D/A Voltage Out | AO-332, AO-308-020 |
| VME-1150 | HV Din Board | DIO-449 |
| VME-2536 | HV DIO Board | DIO-449, DIO-432 |
| VME-3122 | Analog to Digital Converter Board | |
| VME-2210 | Latching or Momentary | DIO-462 |
| VMIVME-4512 | Analog Input/Output Board | AO-333, AI-207 |
| VMIVME-4500 | Analog Input/Output Board | |
| VMIVME-1110 | Discrete Input | DIO-448 |
| VMIVME-3100 | Analog Control | |
| VMIVME-4905 | Digital to Synchro | AI-255 |
| VMIVME-4900 | Digital to Synchro | AI-255 |
| VMIVME-4911 | Synchro to Digital | AI-255 |
| VMIVME-6015 | Serial I/O Board | SL-501 |