8/11/22 We will be at Ground Vehicle Systems & Tech Symposium (GVSETS) 8/16-8/18 in Novi, MI. We partner with many automotive test engineers and look forward to learning more about recent trends and new challenges facing the industry in 2022. Please stop by booth #306 and say hi to Kraig Mikulich.

Vehicle Evolution

Transportation has always played a pivotal role in growth and commerce. Historically, transportation by land or sea was a cumbersome and inefficient process. The Industrial Revolution in the 18th and 19th centuries saw groundbreaking advancements like the steam engine, which would go on to alter just how humans and goods could move across the globe. Whether by air, land, rail, road, water, or even space, transportation plays a crucial part an increasingly globalizing economy. The transportation industry continues its rapid evolution in the 21st century. Key developments of note are the transformation of the automotive industry, as automakers push towards plug-in hybrid, EV, and hydrogen fuel cell vehicles in place of internal combustion engines. Another major development has been the proliferation of Electric Take-off and Landing (eVTOL) aircraft, which promise to revolutionize air transportation with everything from drones to air-taxis.
Automotive Evolution
| 1888: The Benz Patent-Motorwagen, one of the world's first internal combustion engine automobiles. | 2022: The Mercedes Benz EQC, an EV crossover powered by 2 asynchronous electric motors. |
| --- | --- |
Complex engines have been developed to propel automobiles, aircraft and space craft. UEI equipment has reliably assisted companies with the engine tests necessary to ensure efficient, reliable, and safe operation.  Many of these tests occur in harsh environments and conditions. Our customers can count on UEI's to deliver the highest caliber of durable and rugged hardware for all your testing needs.
Engine Tests with UEI

The PC Comet IV engine has evolved into EV and hybrid version for aircraft. The global electric vehicle market is predicted to have a 23% annual growth rate each year from 2021 to 2026. The push to electric motors and the litany of sensors and subsystems required to run; UEI has the customized solutions to address any testing, DAQ, and I/O needs.
UEI's systems are perfect for many types of engine test applications. Whether you are collecting dynamic, high-speed, data monitoring vibration or lower-speed monitoring of temperature and strain, UEI has your application solution covered. Control your FADEC with ARINC-429 or MIL-STD-1553 to ensure your signals and sensors are valid. When you need to collect your signals accurately, you can rely on UEI!
In the news:
EV Testing with UEI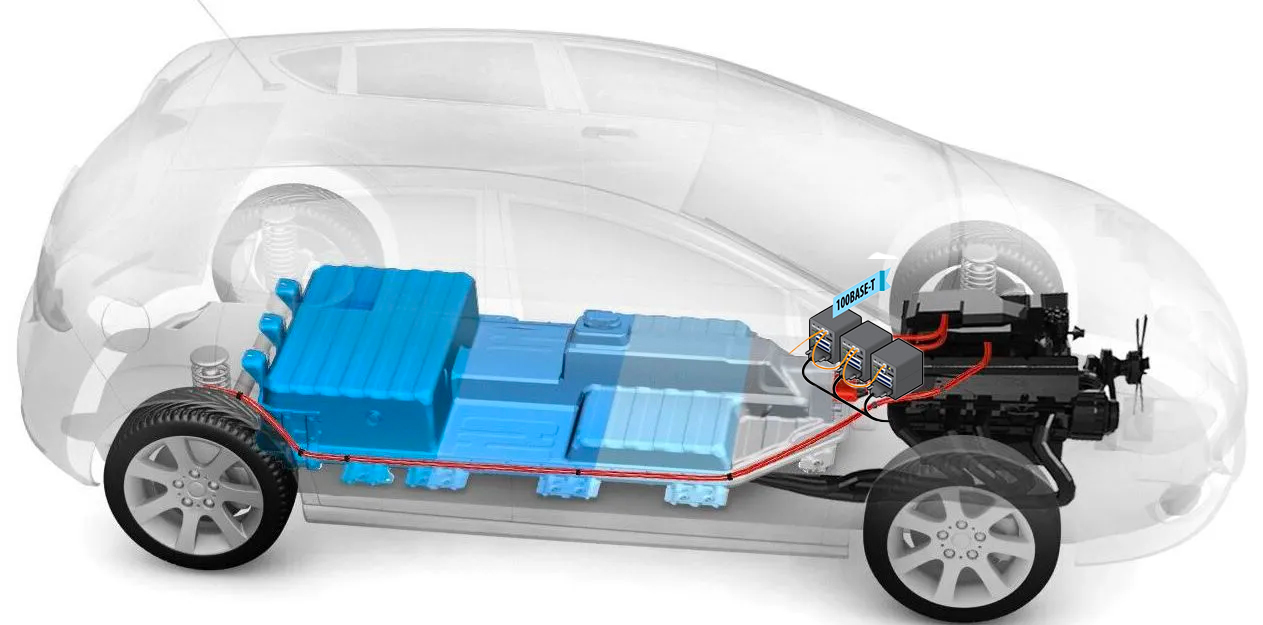 Hybrid and electric vehicles come with a new set of challenges in regards to passenger safety. Vehicle fires, although a rare occurrence, are generated by electric batteries. Batteries burn hotter and faster compared to those of a standard internal combustion engine. The batteries are also prone to reignition hours or even days after the initial blaze, increasing the risk of injury.
UEI's solutions are used to collect data from life-saving crash tests. During a crash or explosion, the Device Under Test (DUT) often creates a major electromagnetic pulse (EMP).  The EMP is likely to destroy anything connected via standard Ethernet.  A crash test facility in Nevada utilizes UEI solutions for our fiber link technology; this prevents the destruction of the host PC in case of an EMP.  
NASA NEAT
Hybrid and electric vehicles are becoming more prevalent in modern society and NASA Glenn Research Center in Ohio has raised the bar by creating a new and cutting-edge Electric Aircraft Testbed (NEAT). This testbed is designed to
enable end-to-end development and testing of a full-scale electric/hybrid aircraft powertrain.
Learn more


In the news:
Advanced Driver-Assistance Systems (ADAS)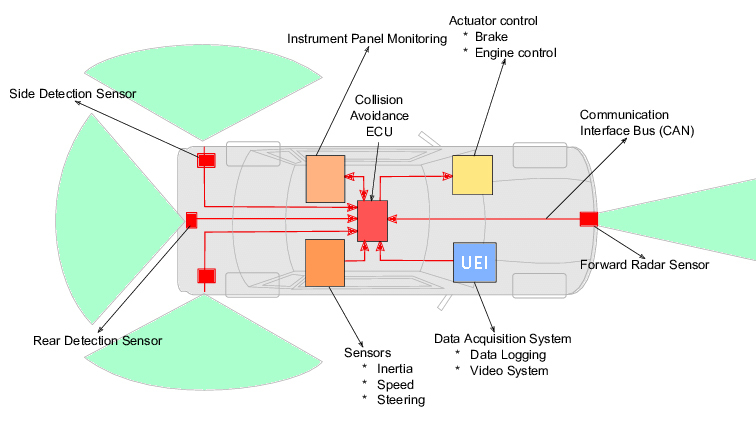 Advanced driver-assistance systems (ADAS) are technologies that have been widely implemented in the automotive industry in the past decade to aid in both driving and parking. Examples of ADAS technology include automated lane-keeping systems (ALKS), emergency steering function (ESF), parallel/perpendicular parking assist, pedestrian detection, and autonomous emergency braking (AEB). These systems rely on the successful intercommunication between multiple sensors utilizing input from radar, laser (LIDAR), GPS, and stereo cameras. UEI has a myriad of rugged and agile DAQ and I/O solutions perfect for ADAS applications.
In the news:
UAV/UAS
Vehicles now navigate manned and unmanned under the sea and in the air. UEI controls UUVs and is used to assist many companies with UAV/UAS development and test.

Hardened vehicles have been used to defend people or lives. UEI is the Health Monitoring Engine of the LCAC.  
---


Throughout this evolution, UEI products have been used to help develop and test each and every vehicle mentioned.


Hardware-in-the-Loop (HIL)
UEI aerospace and avionics hardware-in-the-loop (HIL) solutions help to reduce system risks by creating virtual environments to test and verify integrated aerospace components and software. Our solutions can be used to ensure successful aerospace performance before actual deployment occurs.
Read More on Hardware-in-the-Loop


Embedded Control & Logging
UEI's hardware and I/O are ideally suited for embedded control and logging applications in aerospace, military, space, industrial, vehicle, laboratories environments and more.
Read More on Embedded Control & Logging
Breadth of I/O
And more!
Be sure to contact a UEI Team member at sales@ueidaq.com or support@ueidaq.com to discuss the above solutions and how they can bring you success.
What's next for the transportation industry?