We are looking forward to seeing many avionics professionals this week at the VTOL Forum 78 and ETTC shows. It's evident that the avionics world is pushing technology forward. UEI is ready to meet your avionics testing needs to give system architects the ability to design systems with confidence.

From lighter-than-air aircraft to the wide-body quadjet Boeing B-747, UEI hardware has flown on a diverse array of aircraft. Whether it's fixed wing or rotary, piloted or UAV, military or commercial, UEI has the DAQ and I/O solutions to address any and all aviation needs.
Here's a snapshot of our avionics customers, solutions and recent customer news.
Piaggio Aerospace P.1HH HammerHead, dual engine UAV:
Piaggio Aerospace turned to UEI's standard Cube for the P.1HH HammerHead. The cube is utilized as a controller for various functions in the UAV, as well as in a health and safety monitoring (HUMS) capacity. UEI hardware helps to monitor the smart fuel system, the hydraulic dual pressure landing gear system, braking, and provide control over the 28 VDC electrical generator powering onboard equipment.

Watch the video! UEI at work in unmanned aerial systems, featuring Piaggio Aerospace's P.1HH HammerHead
---
Landing Craft Air Cushion (LCAC):
Standalone/Embedded Applications: UEIPAC 1200-MIL Chassis
The Landing Craft Air Cushion, or LCAC, is a hovercraft vehicle designed by the United States Navy. So technically it "hovers" versus flies over land and water, our favorite flying watercraft.

Two UEIPAC 1200-MIL chassis are used in a variety of redundant command, monitoring and control applications on-board the LCAC as well as four Sensor Interface Units (SIU) all supplied by UEI. Although officially considered a boat, the LCAC is technically in flight during operation through the use of two large turbines. UEI hardware provides reliable DAQ and control solutions that meet strict military ruggedness requirements. Read about UEI's SIU supporting the US Navy's LCAC Service Life Extension Program (SLEP) craft configuration.

Watch the LCAC in action! UEI MIL Chassis Demonstration: Demonstrating UEI's Rugged Hardware in the field.
UEI hardware is built for rugged, reliable operation, no matter the application. In this case, we show how our MIL series systems operate onboard the US Navy's LCAC (Landing Craft Air Cushion) fleet.

| | |
| --- | --- |
---
Sikorsky Firehawk Helicopters:
Sikorsky used the standard UEI Cube in a host of tests on the Firehawk helicopter, a firefighting aircraft frequently operating in extreme temperatures and environments. In conjunction with thermocouples on the underside of the helicopters, the UEI system was able to actively monitor temperatures when flying over actual fires. UEI was able to ensure helicopter safety and peak performance during dangerous in-flight conditions.
In the news: 5/2/22 | Fox40.com, Game Changer: New Cal Fire helicopter will fight fires at night for the first time
---
Bombardier C-604, C-605 and C-650:
Health & Usage Monitoring (HUMS)
UEI's standard (non-military) Cube has been approved for use (including full DO-160 certification) in a health and usage monitoring (HUMS) role on the Challenger series of business jets. UEI HUMS hardware is able to monitor and pin-point critical faults, thereby mitigating potential failures and performance issues for the Challenger private jets. HUMS improves operational safety and provides the information necessary to make informed maintenance decisions.
In the news: May 2022 | GlobeNewsWire.com, Bombardier Honoured for Technological Innovation by Quebec's Most Prestigious Business Awards Program.


---
Bell UH-1N Huey helicopter:
UEI's HUMS1 Health Usage & Monitoring System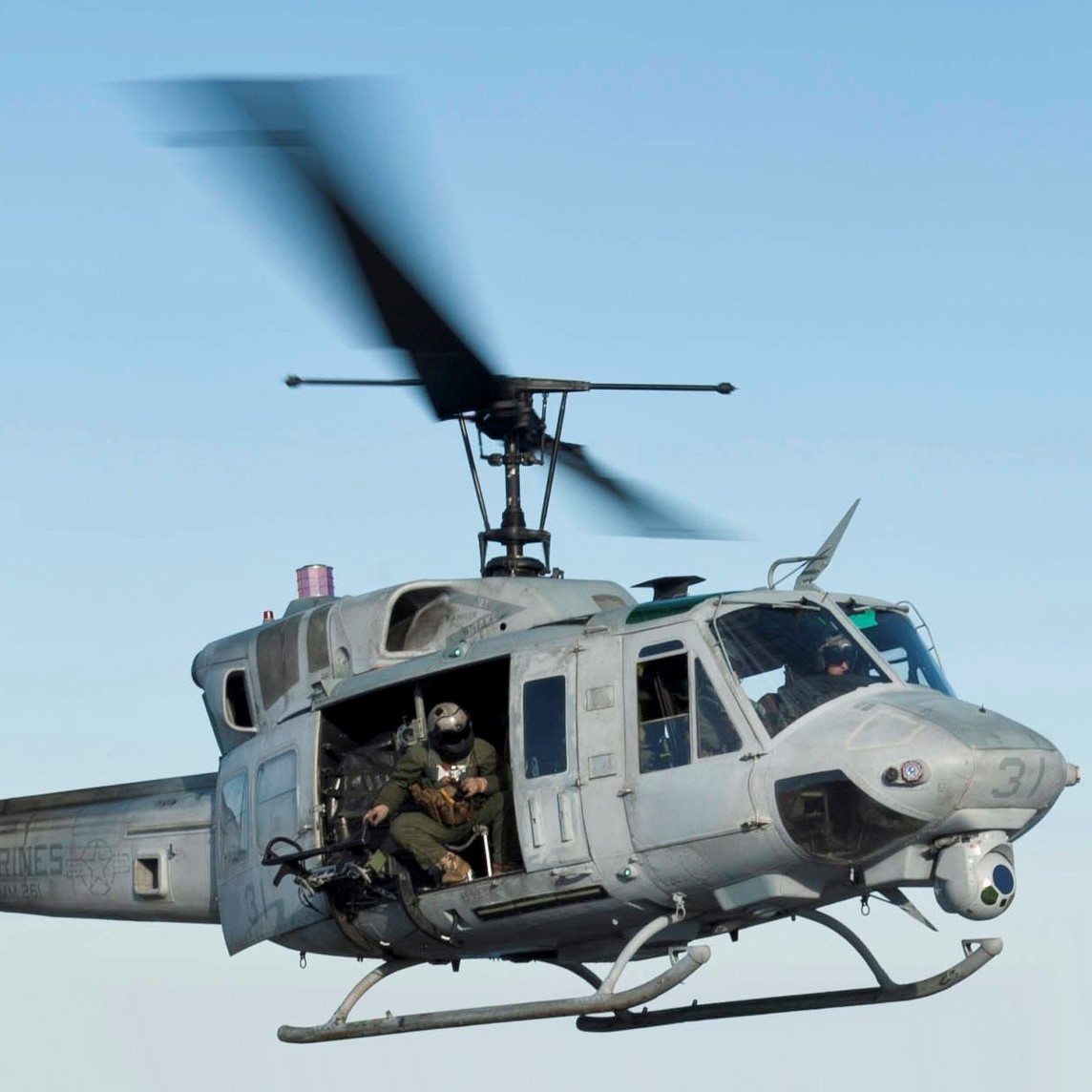 The UEI-HUMS1 system was the perfect match for Bell as the rugged chassis is certified DO-160 and MIL-STD-810 for use on the aircraft. Our HUMS solution simplifies life cycle management and increases reliability by providing a single line-replaceable unit (LRU) which replaces two separate LRUs on a previous design. The I/O provided in the UEI-HUMS1 includes dozens of Analog, Digital, Synchro/Resolver, Speed/Rotation and ARINC-429 interfaces which monitor critical aircraft systems including engine, transmission, flight control positions, fuel and hydraulic systems and more.
OUR CUSTOMER FEEDBACK:
"UEI's data aggregation system enables us to deliver a system design for the U.S. Air Force with superior data accuracy and processing power. The ability to customize the UEI component allows us to effectively match the signal processing and size constraints to the program's requirements," said Andy Gignilliat, Senior Aviation Program Manager, Tyonek Services Group, Inc. "The UEI system offers these enhanced capabilities while reducing material costs and increasing the ease of integration."
---
UH-72 Lakota, UH-60 Blackhawk, S76, S92, Cobra, Apache Helicopter Simulators:
Some of UEI's aviation hardware solutions never make it in the air, with the DNR-series RACKtangle chassis being deployed on hundreds of helicopter simulators. These simulators play an important role in the training and education of pilots, allowing for realistic and safe flight instruction for both military and commercial applications. These simulators are tested to ensure they match the shock and vibration profile of the actual helicopter. Typically, a separate motion system must be included in the simulator to meet this requirement.  
In the news: 5/4/22 | AviationPros.com | Airbus Expands Its Training Portfolio to Include Evidence Based Training, This new flight training concept will enable airlines to incorporate operational and training data in order to adapt training programs for technical and non-technical skills.

---
Dynetics OATIS project including installation on A-60 and CH-47 helicopters:
UEI's standard Cube has been used by Dynetics during the development of the OATIS telemetry system. Dynetics deployed UEI hardware on various aircraft, including the Sikorsky H-60 helicopter and the Boeing CH-47 Chinook.
Hosted Application Solutions: PowerDNA 6 Slot Cube
Watch video | How to install PowerDNA with Windows. UEI PowerDNA (Distributed Networked Automation) hardware is supported by many the popular operating systems; Windows, Windows with Real Time Extensions, QNX, VxWorks and Linux. In this video, we demonstrate how to install PowerDNA for Windows.